A match made in heaven
A business transformation of this scale was going to be a tough challenge, so they made sure to partner with a team that would work seamlessly alongside them and understand their needs. A team that could deliver an all-singing, all-dancing platform to ensure they met their goals. That's us!
The twist in the tale
What neither of us knew was that a global pandemic was about to hit. Numerous lockdowns shut highstreet shops for months. This made direct sales not just an additional stream of revenue for Freesat, but the main stream of revenue for set-top boxes.
Find out how we created a fully integrated system that not only coped with the sudden increase in demand, but streamlined operations so that it did so with ease.
Happy customers, happy clients…happy developers.
Delivering the goods
We worked closely with Freesat product managers and marketers, gathering information about their requirements. It became clear that whatever we built, it had better integrate with their existing systems and processes. We listened, and we delivered.
Now, customers complete their order via an easy-to-use Drupal Commerce checkout process. The order is sent from Drupal to SAP Business ByDesign. The warehouse ships the order, and Drupal forwards the dispatch notification and tracking order to the customer. Neat, right?
Spreading the word 
Marketing is often managed outside of ecommerce platforms — a completely separate world. But not with Drupal. We used Drupal 8's Panels, a powerful page builder, to give Freesat's marketers the ability to create their own new content pages.
The customisable modules match brand guidelines and also give marketers control over their content — while ensuring everything that gets published looks nothing short of professional.
The showstopper 
We custom built a showcase grid using only views and nodes in Drupal. This clever feature uses Freesat's own curation process to highlight recommended shows to logged in customers.
There's no need to sit in front of the TV with a remote; you can log in and record shows from your phone or laptop. Drupal uses authentication and entitlement APIs to make this possible.
Channels feeds
Customers discover new channels as soon as they are available with the channel feed, built with the Feeds module set.
SAP
Customers and the customer service team can do everything they need to via Drupal, thanks to the SAP integration. One system, one log-in — easy.
Marketing tools
Marketers can carry out A/B testing, integrated with Google Tag Manager and their digital marketing platform.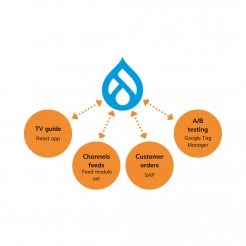 TV guide
Customers scroll through channels to find their favourite programmes using. React app powers the guide and allows customers to control their TV boxes and record shows via the website using Freesat's APIs.
The cherry on top (ongoing work) 
We're proud of our work, so we are always delighted to continue collaborating with our clients after the initial project is complete. We went on to help Freesat to enhance the customer experience and improve their Core Vitals to meet the updated Google ranking requirements in 2021.
We are continuing to help Freesat achieve their growth targets. And of course, we also provide Drupal support, maintenance, security updates and weekly releases, as well as tweaking the site for Drupal 9.