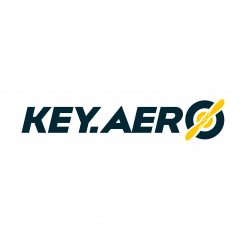 About Key Publishing
Key Publishing is a specialist media company serving enthusiasts across the globe, focusing on aviation, transport, history and sport.
Founded in 1980 and based in the UK, they're still independently owned. They produce over 25 magazines and digital editions along with a range of websites, in-depth industry databases, books and directories. Their magazines are read in over 200 countries and in six different languages.
Our approach
While we have strong credentials in digital publishing and creating subscriber-based content platforms, each is different. It requires technical expertise to create seamless integrations with our customers' existing partners and suppliers for content delivery and subscriber verification.
Design and user experience
The user experience is crucial on a b2c platform like this. We worked with Key during an initial design and UX phase to create a new brand, logo, website design and user experience for key.aero. The initial concept meetings gave us an understanding of the audience and style direction, which formed the basis of several design concepts. With client feedback and input, we refined these into the final site design and logo. We carefully worked unobtrusive Google advertising into the design, embedding it within the content and maximising revenue without disrupting the customer's experience.
Content management
After considering Key Publishing's existing infrastructure and in-house skill, we recommended Drupal 8 - a powerful and extensible content management platform with easy content authoring, reliable performance, and excellent security. Its flexibility allowed us to create the bespoke integrations, with powerful baked-in content and user management.
We delivered tiered access levels and content workflow with powerful SEO tools, which allow the editorial team to look after their areas of speciality. The functions enable them to optimise content for search engines and build rich, engaging sections using the flexible article layout tools.
Content delivery integration
Key Publishing wanted to deliver content online quickly and with minimal manual input. Key Publishing was already working with a partner who converted their magazines to an ePub format. We connected with them to automate the uploading of new editions in minutes, using a combination of Jenkins jobs and Drupal migrations.
Subscriber verification
We developed a bespoke integration with OAK, which Key Publishing partner with for subscription management software. Existing subscribers of Key's aviation magazines can now register an account with their subscriber information to access to all their articles ad-free.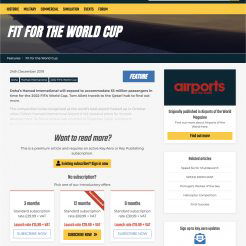 Subscriber acquisition
We implemented teasing paywalls to help achieve the fundamental goals of increasing subscriber numbers and the level of subscription customers have. "Premium" subscription articles present a teaser of the content along with a paywall. If they're an anonymous user they'll see an invite to "subscribe", and the site invites customers to "upgrade" if their subscription level isn't correct for the content. Users see signposts and subscription adverts at various points of their journey through the site in a non-obstructive but effective way.
We developed the site to support Google Flexible Sampling. This has a dual benefit of allowing Google to index the full articles while allowing visitors from Google search results to view a small number of articles before being shown a paywall. Letting Google in is a massive boost to the site's SEO, and with such a broad range of quality content on key.aero it is essential for driving traffic to the hub.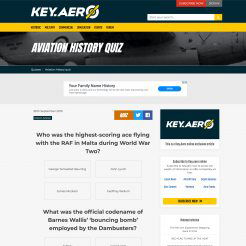 In addition to useful features such as RSS feeds and event information, we developed bespoke quiz functionality to boost interaction with the site. Personality tests and 'right and wrong' quizzes are fun to use. They're also a great way of improving user engagement, reducing bounce rate and increasing social media shares.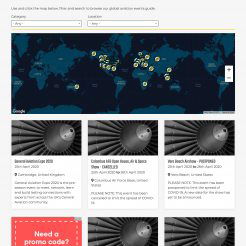 With hundreds of articles being published on the website each month, informing subscribers and non-subscribers is vital to encourage return visits. We developed an integration with DotDigital's DotMailer product, which allow users to subscribe to content categories. Monthly newsletters are automatically generated containing the most popular of the latest content.
Summary
By working closely with the team at Key Publishing we have delivered a complete refresh of the key.aero brand, including the creation of a new website which, amongst other things, has expanded their digital offering and is helping to drive digital revenue. 
We've also transformed the content management of the site and enabled Key to automate the process of adding content to their website, allowing both historic magazine content and current/future content to be included in their digital offering. This automation has had a huge effect operationally, improving the efficiency of the business by replacing a time-consuming manual process. Likewise, the automatic generation of monthly newsletters are proving effective in further driving user engagement and features such as the implementation of "premium" subscription articles are helping to up sell subscriptions.
If you have any questions about anything mentioned in this article or if you have your own print-to-digital project you'd like to discuss please drop us a line.