The launch of Drupal 9 in June 2020 is fast approaching and will herald a fresh start for the platform, with a new straightforward approach to upgrades.
If you're currently using Drupal 7, the move to Drupal 9 will be the last time you will have to migrate your data to a new implementation of Drupal.  Not only will this be a huge leap forward from earlier versions of Drupal, but with the end-of-life for Drupal 7 and 8 coming in 2021, the clock is ticking to make the move sooner rather than later. And best of all, there's no need to wait until June - you can start the upgrade process now.
To help all Drupal users get the lowdown on exactly what's so special about Drupal 9 and also why it makes sense to upgrade, we've put together a handy guide that covers everything from the key improvements you can expect, to how the upgrade will work and what you can do as an organisation to prepare for it. 
Having been part of the Drupal community from the early days, we're particularly excited here at Full Fat Things about Drupal 9 and the benefits it can offer to all Drupal users, and once you've read the guide, we think you'll feel the same!
Get a free Drupal site review
To help you get a full understanding of exactly what will be involved in the upgrade for your organisation, we're offering a free 30 minute review of your current Drupal website. You'll find all the details about how to request your review in the guide.
Download your guide now and take your first steps into a new world of Drupal….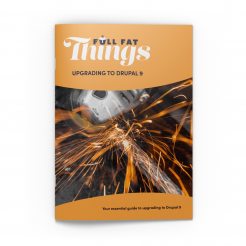 Download your free Drupal 9 guide